As members of St. Joseph Catholic Church, we believe catechesis is a collaborative effort between the family and the parish community. Our program strengthens parent efforts in teaching the Catholic faith; it does not replace it. Individuals with special needs and their families are welcome and encouraged to participate.
Enrollment
Our Approach
Due to the church remodel and the the unavailability of Corrigan Hall for classroom space during portions of this school year, we took the opportunity to re-envision our faith formation ministry to further build up families and our parish community to be missionary disciples, as encouraged and challenged by Archbishop Lori and Pope Francis. To that end, we have moved away from weekly children's sessions in a classroom to a family faith formation model, a combination of at-home weekly faith discussions and a monthly community gathering with optional additional activities throughout the year. Our model is
still lectionary-based using the Pflaum Gospel Weeklies. We also still offer the RCL Benziger Family Life lessons as directed by the archdiocese. For more information about our new Family Faith Formation ministry, please CLICK HERE.
Family Session Dates
October 13th
November 17th
December 15th
January 12th
February 9th
March 8th
April 19th
May 3rd
Sessions are from 1-3 PM and are held at the School of the Incarnation
2601 Symphony Lane, Gambrills
Our Theme this Year
This year's Family Faith Formation theme We Belong derived from the USCCB Catechetical Sunday theme "Stay with Us." The Gospel reading for Catechetical Sunday (Luke 15:1-32) includes three parables about a lost sheep, a lost coin, and a prodigal son. All three relate to something or someone being returned to their rightful place, where they belong. Belonging means an affinity for a place or situation. It is in our belonging that we reside in right relationship with God. The parable of the Prodigal Son teaches us that God, our families, and the Church are always there for us: We Belong. Each month we gather we will focus on the many ways We Belong: community (parish), family (domestic church), creation, the universal church, as a group of disciples, to God (specifically the triune God – Father, Son, and Holy Spirit), humanity/each other (service), and in prayer as we move through the Church's liturgical year.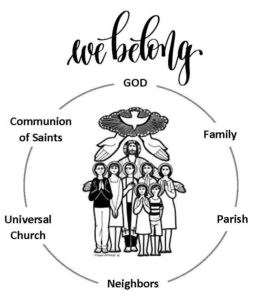 For our third family session we focused on We Belong to the Communion of Saints. As our liturgical year winds down, the Gospels during this time produce images of the end of the world, In their session, the children explored some the fears they might have and how we can put our trust in Jesus. The saints are wonderful examples of those who kept the faith and trusted in Jesus when life was hard. In the parent session, the adults discussed the Church's teachings on Heaven and purgatory. For the family activity, we learned more about the saints by exploring their biographies and discussing ways their family can live to show God's love as the Saints did. We spent the final portion of our afternoon together recognizing the "saints in training" in our own families and how we give thanks for them. Families decorated placemats for their Thanksgiving tables (or any mealtime) as a simple way to remember each other and give thanks to the members of our family.
November Music Playlist
Liturgical
Contemporary
For our second family session we focused on We Belong to Humanity. In their session, the children reflected on the Gospel story of how Jesus met and healed ten lepers and how Jesus looked beyond the differences between himself and these sick and foreign lepers and showed them compassion. By Jesus' example, we realize that we have a responsibility to love and care for each other. Parents reviewed the Works of Mercy and listened to a panel of young adults who spoke of the influence service had on their faith development and has helped them see their role in the mission of the church in spreading God's love to others. For the family activity, we made greetings for the families visiting the Catholic Charities respite center in McAllen, TX and discussed ways to help others.
October Music Playlist
Liturgical
Contemporary
For our first session we focused on We Belong to Family. The children reflected on the parable of the Prodigal Son during the children's session while the parents heard ideas on how they can foster the faith in their homes. Together the families created a family herald and mission statement. See below for more for September.
September Music Playlist
Liturgical
Contemporary
Tim's Family Prayer
God made us a family. We need one another.
We love one another. We forgive one another.
We work together. We play together. We worship together.
Together we use God's Word. Together we grow in Christ.
Together we love all people. Together we serve our God.
Together we hope for Heaven.
These are our hopes and ideals.
Help us to obtain them O God,
through Jesus Christ our Lord.
Amen.