Registration is open for the 2023-2024 school year!
Registration Closes Aug 28!
Family Faith Formation is the primary religious education program at St. Joseph and designed for students in grades K-8.
The Family Faith Formation program is a holistic approach to faith formation where families complete activities together at home to build their faith together. Included in the program are monthly parent sessions to nurture their faith and support them as the primary example of faith in their children's lives.
We will come together as a community in monthly sessions to reinforce our faith and the bond we share through fun lessons and activities. The Family Faith Formation program will run from September to April.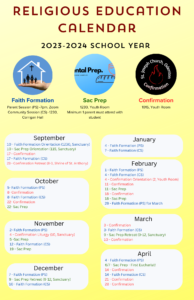 Family Faith Formation Coordinator
Brian Ten Eyck is our Pastoral Education Coordinator. In addition to the Family Faith Formation program,
Brian leads the Sacramental Preparation and Confirmation programs. Brian will also be working to expand and engage our parish families in our Family Faith Formation and parish education programs.