As members of St. Joseph Catholic Church, we believe catechesis is a collaborative effort between the family and the parish community. Our program strengthens parent efforts in teaching the Catholic faith; it does not replace it. Individuals with special needs and their families are welcome and encouraged to participate. Our program aim is to strengthen the domestic church and for parents to increase their knowledge and experience of faith alongside their children. The majority of the lessons are completed by the families at home with monthly sessions for families to gather for small group learning and sharing and a family activity.
Family Faith Formation Coordinator
We are very excited to welcome Brian Ten Eyck as our Family Faith Formation Coordinator, beginning in January 2021.
Brian will be coordinating the Sacramental preparation program for those children and teens who will be receiving First Reconciliation, First Communion and Confirmation. Brian will also be working to expand and engage our parish families in our Family Faith Formation program.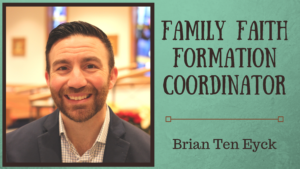 Registration for Family Faith Formation is now open! Just click on the form below to get started!
The fees for Faith Formation this year is $50 per child. Registrations and fees need to be submitted by January 25. We cannot order the materials and get started before we have these. As a reminder, this registration is for Faith Formation only. Registrations for Sacramental Prep and Confirmation will be sent out soon.
Family Faith Formation will be running from Feb 1 – May 16 and is going to be all digital. This includes the Pflaum Weeklies, Family Life, and any gatherings we have as a community.
While we are adapting to the situation in which we are faced, the intent and focus of Family Faith Formation have not changed. This program is about sharing our faith with our children and growing as a family. A degree in theology or teaching is not required. Don't worry, more information about the program will be coming out soon!
Let's get Family Faith Formation off to a great start!