BID FOR HOPE – SPRING FLING
Greetings and Happy Spring! Due to COVID, Arundel House of Hope was not able to hold its annual Bid for Hope event in February. We are pleased to announce that we will be holding our 15th annual Bid for Hope event online. Just as in previous years, our event will be a silent auction and raffle with numerous exciting prizes on which you can bid. The auction will start at 8am on April 14, 2021 and run until 4pm on April 17,
2021. I have attached the link for the event website. The items available for bidding will not be posted until the date of the event; however the site will allow you to purchase raffle tickets ahead of time. In addition to the items available for bidding, the site will offer a link to make a direct donation to Arundel House of Hope and a link labeled Fund a Need which will allow you to donate money towards a specific cost associated
with our clients. Please take a moment to familiarize yourself with the website, recognize our sponsors, make a donation and buy raffle tickets. We are very excited to offer this virtual alternative to our annual event. Please click on the link below to hear a message from our Executive Director. Thank you, as always, for your continued support of Arundel House of Hope and for giving back to those in need.
Thank You to all those who donated to the SJC Game Night Basket (Picture Below)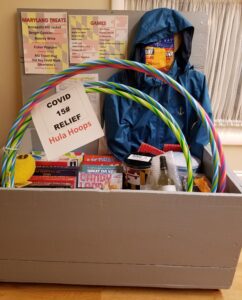 WINTER RELIEF
In association with Arundel House of Hope, and in cooperation with many churches in the county, we also provide a winter shelter for 30 homeless men for one week. Parishioners provide many services, including setting up and taking down the shelter's facilities, making and serving meals, doing the clients' laundry, socializing with the clients and providing chaperone services.
DUE TO COVID-19 RESTRICTIONS, WINTER RELIEF IS POSTPONED FOR THIS YEAR. PLEASE CHECK BACK IN THE FALL FOR INFORMATION ABOUT WINTER RELIEF 2022.