We are a Roman Catholic parish of the Archdiocese of Baltimore located in Odenton, Maryland.
Our pastor is Rev. James Kiesel. All are welcome as brothers and sisters in Christ! We are happy you are here!
With the re-opening of the parish for Masses under Archdiocesan guidelines, some things will be different with regards to our building layout and in how we publicly celebrate liturgy.
Please refer to the Welcome Kit below to prepare yourself to return to Mass.


Archbishop Lori extended his dispensation of the faithful from the obligation to attend Sunday Mass through the entirety of Phase II. All weekend Mass will continue to be live-streamed on our website and on the SJC Facebook Page. Recorded Masses will be available for viewing anytime, as well as Fr. Jim's homilies.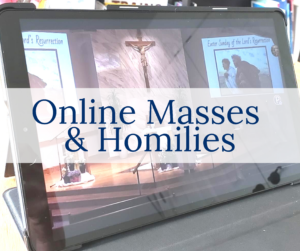 Stay connected by engaging online to pray and grow closer to Christ.
Click below to discover resources, activities, and other ways to engage, connect, and strengthen your faith.
Thank you for your continued support as we work through this together!