GIVING BACK /LINDA'S LEGACY
A Christmas collection for families in need is done annually in partnership with Linda's Legacy-Giving Back. For more information, please contact
Jeff Cullen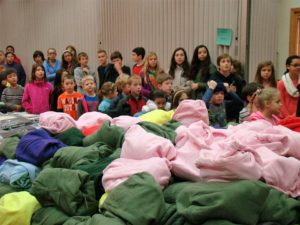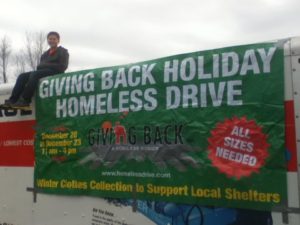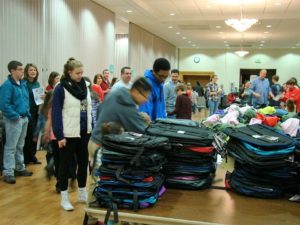 Backpack Drive
Linda's Legacy/Giving Back
The Faith Formation classes will once again help provide filled backpacks for those in need through Linda's Legacy/Giving Back. Each backpack contains a hoodie, thermal underwear, socks, ski gloves, a knit hat, and a handmade Christmas card to be distributed to homeless men, women, and children on the streets of Baltimore & Washington, DC on Christmas Eve 2018. The cost to sponsor a backpack is $25.
U-Haul Collection
A U-Haul truck will be parked in the St. Joseph parish parking lot December 15-16, 2018 to collect donated items.
All new and gently used clothing (especially men's), household goods, non-perishable food, and cash donations are appropriate. If you are going out shopping here is a list of suggested items that would be greatly appreciated:
Cleaning Supplies
Laundry detergent Non-Perishable food
FOR MORE INFORMATION & VOLUNTEER OPPORTUNITIES
Please note: the events below are not chaperoned or organized by St. Joseph parish or fall under Archdiocesan child protection policy- minor children should not simply be dropped off to help – make it a family event!
For details, please visit www.homelessdrive.org/new-events/:
+Anne Arundel County Farmers Packing Days
Dec. 18-21, 2018 from 1-8 PM and Dec. 22-23, 2018 from 1-6 PM. All are invited to come down to sort and pack supplies for the homeless.
+Shelter Deliveries
Dec. 24, 2018 from 8 AM – 1 PM. All are welcome to deliver items to homeless shelters and to bring the residents Christmas Carols and good cheer!
+Backpack Deliveries
Deliveries on the streets of Baltimore on Christmas Eve, Dec. 24t, 2018 from 3:45-7 PM. Teens and older are welcome to help give out backpacks and food to our homeless brothers and sisters on the streets of Baltimore.