MASS TIMES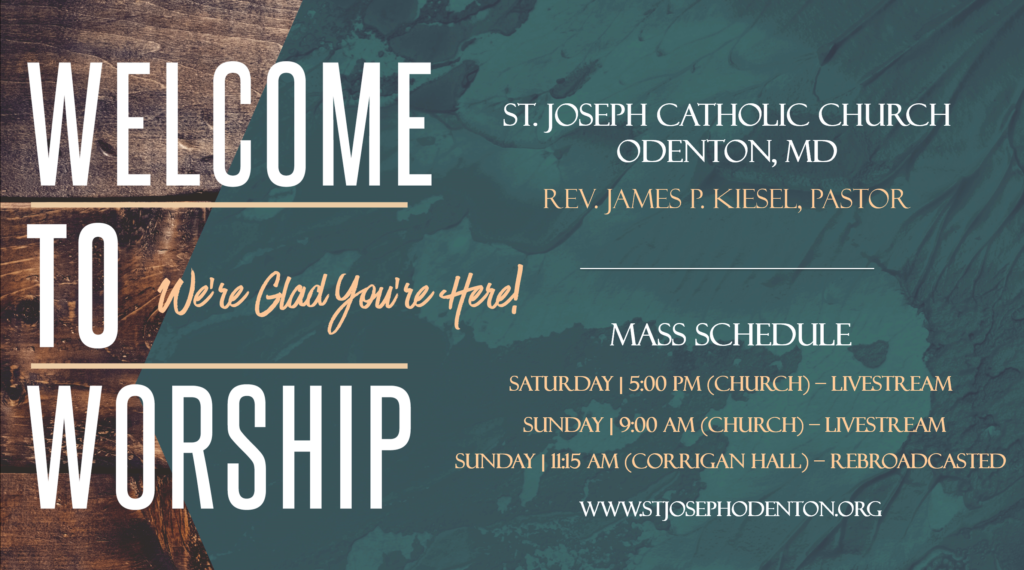 Public Masses in the Archdiocese of Baltimore are now offered with capacity limits to allow for proper physical distancing.
Archbishop Lori extended his dispensation of the faithful from the obligation to attend Sunday Mass through the entirety of Phase II.

We are

using the ticketing system Eventbrite to comply with capacity limits and avoid having to turn away people seeking to attend Mass. Please sign up in advance with the number in your group. Weekend Mass will continue to be live-streamed on Saturday at 5 PM and rebroadcast at 9 AM and 11:15 AM Here on our Website and on our Facebook Page. for those who wish to continue to stay at home.
Weekday Masses are Monday-Thursday at 9 AM in Corrigan Hall.
Funerals
Call the parish office (410-674-9238) for the emergency contact number to discuss funeral arrangements.
OTHER SACRAMENTS
Confessions
The church building is open for Confessions from 3:30-4:40 PM on Saturdays. Please read and comply with all signs and observe floor markings and physical distancing in the building. Please contact Fr. Jim for last confession and anointing.
Baptisms
Marriage:
Please contact Fr. Jim to discuss preparation for the Sacrament of Marriage and scheduling your wedding.
Holy Orders
Those interested in the priesthood, permanent diaconate or if you have religious life questions please contact the office.
Anointing of the Sick
If a member of your family is actively dying, please contact Fr. Jim for last confession and anointing.