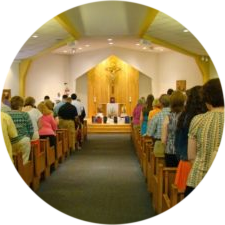 As a parish dedicated to stewardship, we invite all to actively participate in the beautiful liturgies offered at St. Joseph parish! In the words of Pope Francis, "No one should think that this invitation is not meant for him or her, since 'no one is excluded from the joy brought by the Lord.'" (Joy of the Gospel) Our parishioners' active participation in the liturgy adds a powerful component to the personal encounter with Jesus we experience in the Sacraments. Read below on how you can help us provide a joyful liturgy.
Altar Servers
Children's Liturgy of the Word (CLoW)
CLoW provides children ages 3-7 the opportunity to celebrate liturgy where the Word of God is proclaimed and explained at their level of understanding. The CLoW leaders proclaim the Word to the gathered children, using the Lectionary for Masses with Children, and offer a brief interactive reflection.
Environment
Environment decorates our worship space for the various seasons of the year. If interested, please email
Extraordinary Ministers of the Eucharist
Greeters and Ushers
Hospitality
Hospitality provides a friendly, welcoming face and serves food and drinks at special celebrations and scheduled "Hospitality Sundays." If you are interested in serving in this ministry, please contact the parish office.
Lectors
Mass Coordinators
Music Ministry
Worship Council