FIRST RECONCILIATION & EUCHARIST
We are very happy to announce that registration is now open for Sacramental Prep! This program will work with your children to achieve the sacraments of First Reconciliation and First Eucharist.
Much like the Faith Formation program, all learning materials will be online. We will be holding online classes and a retreat to prepare the students for their sacraments. However, parents are still vital to the development of their children's faith. Families are highly encouraged to work together as they prepare.
Registration ends on February 10! This is a very fast registration period because we want to get the students started on their journey.
Simply click on the button at the bottom of the email to register. All forms and fees need to be submitted no later than Feb 10.
The course will begin the week of February 14. A full schedule will be sent out in a separate email.
First Reconciliation will be on April 17. There will also be several options for First Eucharist. However, the dates may be compressed based on the number of participants. First Eucharist will be at all normal masses on the weekends of July 10 and July 17.
IMPORTANT: This program is designed for children in second grade. If your child is not in second grade, please contact me before completing the registration to ensure that each child is receiving an education that is appropriate for their age.
For information about our First Reconciliation and First Eucharist preparation program, please contact BRIAN TEN EYCK, Family Faith Formation Coordinator.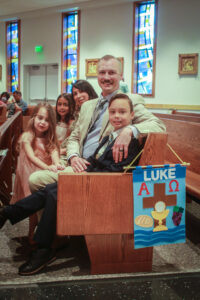 RITE OF CHRISTIAN INITIATION OF ADULTS ADAPTED FOR CHILDREN (Adapted RCIA)
Children older than seven years who have not yet been baptized or were baptized under another Christian tradition and wish to become Catholic to receive the Eucharist are welcomed through the RCIA, the Rite of Christian Initiation, adapted for children. Families are encouraged to extend this invitation to friends and neighbors. The adapted RCIA is a one to two-year process to acquaint children with Scripture, Tradition, and the teachings of the Catholic Church. Placement and formation is determined after an interview.
Please contact DEACON DAVE ROLING to arrange for an interview.