FIRST RECONCILIATION & EUCHARIST
The parish family joins with the parents in helping to prepare the child for sharing in the Eucharist for the first time. Part of the preparation is participating in the Sacrament of Reconciliation (confession). The child must be at least in the second grade and completed one year of religious education to participate. Sacramental preparation takes place at the parish and is in addition to the religious education provided by a Catholic school or the parish Faith Formation program.
Registration forms for the 2020-2021 year will be made available after discernment on offering preparation during COVID-19 conditions.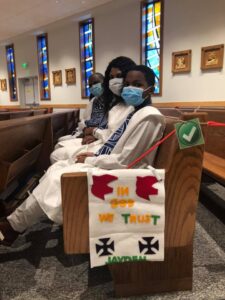 RITE OF CHRISTIAN INITIATION OF ADULTS ADAPTED FOR CHILDREN (Adapted RCIA)
Children older than seven years who have not yet been baptized or were baptized under another Christian tradition and wish to become Catholic to receive the Eucharist are welcomed through the RCIA, the Rite of Christian Initiation, adapted for children. Families are encouraged to extend this invitation to friends and neighbors. The adapted RCIA is a one to two-year process to acquaint children with Scripture, Tradition, and the teachings of the Catholic Church. Placement and formation is determined after an interview.
Please contact DEACON DAVE ROLING to arrange for an interview.