FIRST RECONCILIATION & EUCHARIST
Registration is open for the 2023-2024 school year!
Registration Closes Aug 28!
Sacramental prep is our First Communion course. This course includes First Reconciliation and First Communion.
It consists of an online course that is completed at home. There are also in-person classes and a half-day retreat for each section. Parents also accompany children to these classes which reinforces the importance of the sacrament as well as being a good refresher for parents.
Sacramental Prep will begin in September. First reconciliation will be in December and First Communion will be in April after Easter.
This course is designed for children entering 2nd and 3rd grades.
One year of Faith Formation or Catholic school is required to register.
Families that previously attended faith formation in another parish may be required to provide proof of participation.
Registration is open for children entering 2nd & 3rd Grade.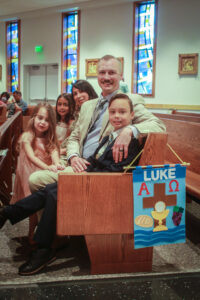 RITE OF CHRISTIAN INITIATION OF ADULTS ADAPTED FOR CHILDREN (Adapted RCIA)
Children older than seven years who have not yet been baptized or were baptized under another Christian tradition and wish to become Catholic to receive the Eucharist are welcomed through the RCIA, the Rite of Christian Initiation, adapted for children. Families are encouraged to extend this invitation to friends and neighbors. The adapted RCIA is a one to two-year process to acquaint children with Scripture, Tradition, and the teachings of the Catholic Church. Placement and formation is determined after an interview.
Please contact DEACON DAVE ROLING to arrange for an interview.