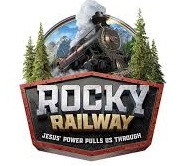 VBS POSTPONED TO SUMMER 2021
vb
April 30,2020
Dear, Friends:
St. Joseph, Our Lady of the Fields, and St. Elizabeth Ann Seton parishes have made the difficult decision to not hold our tri-parish VBS this summer.
There were many factors that played into this decision, but the biggest was the uncertainty of what the COVID-19 restrictions will be in July and the need to get plans seriously underway soon to provide a quality VBS. We do not think gathering a large crowd of people in the gym, snack area, classrooms, traveling through narrow hallways, competitive games, etc. is prudent. The unknowns regarding physical distancing combined with our upcoming deadlines for registrations, getting supplies together, and training volunteers, as well as consideration of decisions already made by other organizations regarding summer activities, guided our decision.
Rather than try a virtual Rocky Railway VBS, we are considering other ways children and families can stay connected to their faith and their parish throughout the summer. We plan on using the Rocky Railway VBS kit and supplies already purchased for our Summer 2021 VBS.
We're saddened by the cancellation and know that many of you will be as well, but we felt strongly that it is in the best interest of safety of the children and the volunteers. We will be issuing refunds to the few families who had already registered and paid.