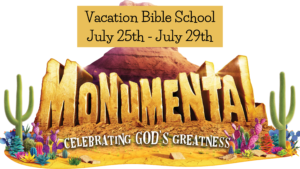 Camper registration for Vacation Bible School (VBS) is now closed.
Thank you to everyone who has registered!
We look forward to seeing everyone that was unable to register in 2023.
VBS is July 25-29 at the School of the Incarnation (SOTI) from 9-12 every day.
VBS is for children in Pre-K through Grade 5 in the 2022-2023 school year.
Children in Pre-K must be at least 4 years old, toilet trained, able to follow directions, and have preschool experience.
Children entering 6th grade in the 2022-2023 school that wish to participate can register as Teen Volunteers.
We are still in need of many more volunteers to make VBS happen. Consider taking a day or all week to have fun with the kids!
Parents that volunteer all 5 days will receive free registration for their campers!
We will contact 5-day volunteers directly to register their campers.
See below for more information on how you can help with this awesome program!
Adult Volunteers
Registration due May 27
Adults are critical to the planning and execution of VBS. Adults will act as Station Leaders, Crew Leaders, Quail Trail Leaders and Support Staff. There are a lot of fun ways to engage with the students this year. See below for a full list of all opportunities available!
All adults will need to be VIRTUS certified with significant contact with children. This will be processed through the church and must be completed before starting VBS.
Parents who volunteer for all 5 days receive FREE registration for their students!
Student Volunteers (grades 6-12)
Student volunteers are the heart of VBS! The younger children look to them as examples and feed off of their energy. Student volunteers can assist adults in the stations, with quail trails, or be crew leaders themselves!
Student volunteer eligibility is based on their grade for the 2022-2023 school year.
ALL volunteers from 14-17 years of age on 1 Aug, MUST complete Worthy of the Call training and the Archdiocese of Baltimore Volunteer Application before VBS.
The volunteer application must be submitted to the parish Secretary, Briana, at SECRETARY@STJOSEPHODENTON.ORG. The application can be found by clicking below.
PLEASE NOTE: Adults do not need to submit the Archdiocese of Baltimore Volunteer Application.
There will be two opportunities to complete the Worthy of the Call training. The training will be in-person and take about an hour. Volunteers will select their training session in the application. Training will be held on June 1st at 5:00 pm and June 5th at 12:30 pm.
Thank you all for your support with this great program.
If you have any questions contact Brian at BTENEYCK@STJOSEPHODENTON.ORG