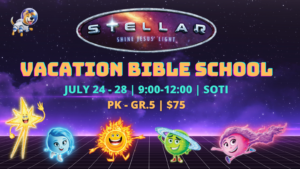 Registration for Vacation Bible School is open!
Vacation Bible School is a half-day summer camp for kids entering Pre-K through Grade 5.
VBS will be July 24-28 at the School of the Incarnation (SOTI) from 9-12.
Vacation Bible School will have:
Games, Science Experiments, Videos, Interactive Bible Stories, Songs, Dancing, and lots more!
Kids and volunteers always have a blast! Click on the link below to sign up today!
Registration is open until May 26.
Registrations WILL NOT be accepted late.
VBS literally cannot happen without you

.
VBS cannot happen without LOTS of volunteers. Please join the team as a volunteer!
There are lots of opportunities to participate – see below for the various opportunities!
Volunteers are age 14+ including adults. Student helpers are those that have aged out of the program but are not 14 yet.
Volunteers (14+) will be able to register their kids or siblings for free!
Click the links below to volunteer today!
Adult Volunteers
Adults are critical to the planning and execution of VBS. There are a lot of fun ways to engage with the students this year. See below for a full list of all opportunities available!
All adults will need to be VIRTUS certified with significant contact with children. This will be processed through the church and must be completed before starting VBS.
Student Volunteers (grades 6-12)
Student volunteers are the heart of VBS! The younger children look to them as examples and feed off of their energy. Student volunteers can assist adults in the stations or be crew leaders themselves!
Student volunteer eligibility is based on their grade for the 2023-2024 school year.
ALL volunteers from 14-17 years of age on 1 Aug, MUST complete Worthy of the Call training and the Archdiocese of Baltimore Volunteer Application before VBS.
The volunteer application must be submitted to the parish Secretary, Briana, at SECRETARY@STJOSEPHODENTON.ORG. The application can be found by clicking below.
PLEASE NOTE: Adults do not need to submit the Archdiocese of Baltimore Volunteer Application.
There will be two opportunities to complete the Worthy of the Call training. The training will be in-person and take about an hour. Volunteers will select their training session in the application.
Thank you all for your support with this great program.