To create a vibrant faith community that attracts, retains, celebrates, and leverages the talents of its diverse members through an active outreach program, an embracing welcome ministry, personal engagement, and a practically designed, well-maintained worship space and campus.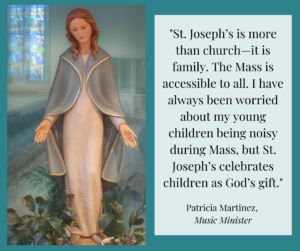 ALL ARE WELCOME
Hospitality




Our Hospitality ministry provides a friendly, welcoming face and serves food and drinks at special celebrations and scheduled "Hospitality Sundays." If you are interested in serving in this ministry, please contact the parish office.
Greeters and Ushers


Greeters and Ushers assist in welcoming people as they come to Mass, distribute bulletins, direct people to come forward to receive communion, and take up the collections. If you are interested, please contact

CYNTHIA RENO

.
SHARING OUR TALENTS IN MINISTRY
OUR WORSHIP SPACE AND CAMPUS