HIGH SCHOOL YOUTH MINISTRY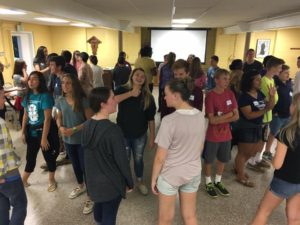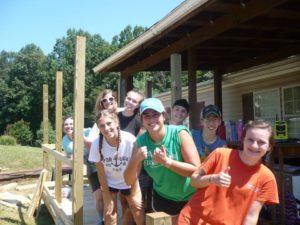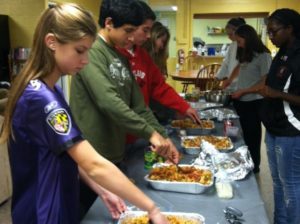 The goals of our High School Youth Ministry are to:
Empower young people to live as disciples of Jesus Christ in our world today;
Draw young people to responsible participation in the life, mission, and work of the faith community; and
Foster the personal and spiritual growth of each young person.
Opportunities for socials, catechesis, teen discussions and/or outreach activities are scheduled at various days and times each month. We ask that all teens participating register by downloading and completing the form below. Registration helps us keep current contact and basic emergency information on file.
Parent Chaperones
All parents wishing to help out, including chaperoning events or helping drive teens to an event, must comply with the Archdiocese policies for Child Protection. More information about the policies and the required forms can be found on our website under Child Protection.
Upcoming Events
High School Youth Group Calendar
YOUTH NIGHTS

– Sundays, 6:30-8:00 PM Youth Room
FOOD-FUN-FAITH – Come join us!

Jan. 26, Feb. 2, Mar. 8, Apr. 5 & Apr. 19, and May 3
High School Faith Formation – PreConfirmation Class
"Called to be Catholic" Exploring the Catholic Faith Sundays, 10:10-11:10 AM Youth Room
This course is required as a continuing religious education class for all high schoolers wishing to prepare for the Sacrament of Confirmation in the Spring that do not attend a religious education class at a Catholic high school. You must be registered in advance for the class. Please contact
Michele Dougherty
to register.
Dec. 8, 15 & 22 Jan. 5, 12, & 26 Feb. 2 & 9
CATHOLIC HEART WORK CAMP (CHWC)
North Haledon, NJ from July 19-24, 2020
Submit a $100 initial deposit (non-refundable) to secure your spot. Refer to the website for details.
Only 3 spots remaining!
Registration fee is $385.
$100 Initial Deposit (non-refundable) is due ASAP to secure your spot.
$145 due by Jan. 26; $140 due by Mar. 24, 2020
March 24, 2020 is also your drop date deadline to get a refund (minus $100 non-refundable deposit)
SOUPER BOWL OF CARING
Feb. 1-2 after all Masses
We need teens to help with collecting donations for the Franciscan Center Food Pantry. It only takes about 5-10 minutes after Mass and for you to smile and hold one of our collection pots for donations. To sign up to help:
SUPER BOWL PARTY
Feb. 2, 6:30-8:30 PM Youth Room
Come for food and fellowship while the Super Bowl plays on. We will provide hot dogs. Please sign up to RSVP and if you would like to bring a food item to share. In solidarity with those who have less to eat, please bring a canned food item to donate to our local CAP Pantry.
AHOH WINTER RELIEF HELP
Arundel House of Hope (AHOH) is an ecumenical organization that provides emergency, transitional, permanent affordable housing and support services for the poor and homeless in Anne Arundel County. St Joseph's Catholic Church operates a Winter Relief shelter as one of over sixty churches under the sponsorship of the AHOH. St.Joseph's shelter week will run February 10-17, 2020. We expect to house about 30 homeless men during that week.
The High School Youth Group has been asked to help with the following:
Help set up the shelter from 11:15 AM to 1:15 PM on Sunday, February 9, 2020. We need strong bodies to help move furniture and items to/from the upstairs old church and the Youth Room.
Help tear down and clean up the Youth Room from 6:45-8 PM on Monday, February 17, 2020.
Donate bottled water for the week.
Please sign up below to help out!
SANDWICH MAKING FOR AHOH
Come help make 30+ bagged lunches for our guests during Winter Relief. Please bring $20 to help cover the cost of supplies. Sign Up below:
LENTEN ACTIVITIES / FUNDRAISERS
Stay tuned on the progress of the Church remodel and our ability to host the annual Shrove Tuesday Pancake Supper and Lenten Fish Frys in Corrigan Hall. Our hope and anticipation is to have these events as currently scheduled. The Pancake Supper is scheduled for Tuesday, February 25 with Fish Frys the following six Fridays.
WE NEED YOUR HELP TO MAKE THESE EVENTS A SUCCESS! Please use the links below to sign up to help:
Contact Us
Any questions about the Blaze ministry or upcoming events can be emailed to
Michele Dougherty
, Director.
.