HIGH SCHOOL YOUTH MINISTRY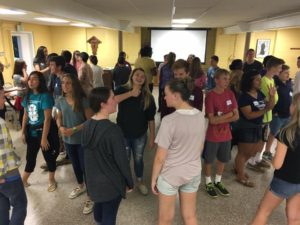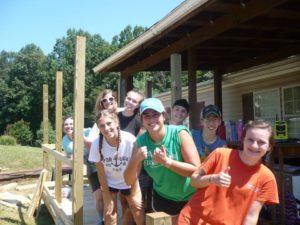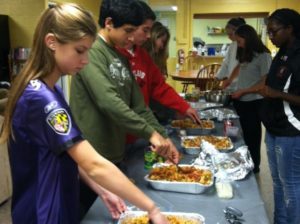 The goals of our High School Youth Ministry are to:
Empower young people to live as disciples of Jesus Christ in our world today;

Draw young people to responsible participation in the life, mission, and work of the faith community; and

Foster the personal and spiritual growth of each young person.
Opportunities for socials, catechesis, teen discussions and/or outreach activities are scheduled at various days and times each month.
SUMMER EVENTS
Our regular youth nights would have ended the first Sunday in May, pre-COVID-19. We will post here any possible gatherings over the summer and news for the resuming in the fall when we have details

High School Leadership Institute (HighLI) July 12-17
Each summer, the archdiocese hosts a leadership camp to help high school upper classroom develop their skills in serving as leaders at their parishes/youth groups.
This summer, due to COVID-19, HighLI is transitioning into an online and abbreviated format. This "Hint of HighLI" will give RISING JUNIORS AND SENIORS an experience of some of the key aspects of the traditional HighLI, done right from their homes.
The HighLI team will be working with participants to develop a witness talk as well as touching on public speaking (related to lecturing), planning prayer, and warmers/ice breakers for group. Cost is significantly lower (I think $50) than the usual $690.
Online times are:
Sunday, July 12: 7:00 to 9:00 pm
Monday, July 13: 9:00 am to11:30 am
Tuesday, July 14, 9:00 to 11:30 am AND 7:00 to 9:00 pm
Wednesday, July 15, 9:00 to 11:30 am
Thursday, July 16, 9:00 to 11:30 am
Friday, July 17, 9:00 to 11:30 am
Aside from these times, participants will need to complete some tasks offline as well–independently, in consultation with sponsor, and in collaboration with assigned small group. If you are interested, please contact Michele Dougherty about sponsorship. Deadline for HighLI registration is July 1.
Quo Vadis CAMP July 20-22
Quo Vadis is a summer vocations camp for young men. This is usually held at Mount Saint Mary's Seminary, but this year, due to COVD-19 is being abbreviated to a day camp and held at various locations across the diocese.
The Anne Arundel County location is St. John the Evangelist Church, Severna Park.
The camp consists of three days of prayer, fraternity, contemplation, guest speakers, and much more and is open to all high school boys. Cost for the three days is $75; discount for multiple family members.
Monday, July 20, 8 AM to 4:30 PM
Tuesday, July 21, 8 AM to 4:30 PM
Wednesday, July 22, 8 AM to 7 PM
Parent Chaperones
All parents wishing to help out, including chaperoning events or helping drive teens to an event, must comply with the Archdiocese policies for Child Protection. More information about the policies and the required forms can be found on our website under Volunteer Certification Procedures.
Contact Us
Any questions about the Blaze ministry or upcoming events can be emailed to Michele Dougherty, Director.
.