Our Lady of the Fields
(Millersville, MD) offers

education,

community, counseling and advocacy for individuals and families who are experiencing

issues t

hat may be affecting their mental, emotional, relational, or spiritual health. In
providing accessible professional counseling, it is the aim of the Ministry for clients to
come to know greater peace in their hearts, minds, and souls.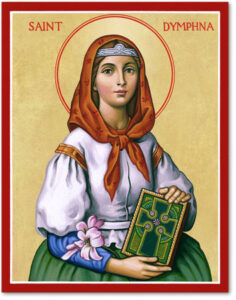 St. Dymphna is the Patron Saint of Mental Health. To read about 11 other saints of various mental health issues, CLICK HERE.
RESOURCES
2-1-1 is a free, quick, and easy way to find information and get referrals for programs and services across Maryland. A trusted and caring call specialist is there to answer the helpline 24/7, available in 180 languages, and completely confidential. Dial 2-1-1 from any phone to be connected. If you need immediate assistance, there are resources for finding food, paying housing bills, accessing childcare, or other essential services.
Staff can help individuals move towards recovery and healing from challenges such as anxiety, stress and burnout, body image and eating issues, addictions, depression and other mood disorders, grief and loss, anger management, history of trauma, and relationship, boundary, and sexual behavior problems.
NATIONAL SUICIDE PREVENTION LIFELINE, 1-800-273-8255
The Lifeline provides 24/7, free and confidential support for people in distress, prevention, and crisis resources for you or your loved ones, and best practices for professionals.
CRISIS TEXT LINE, Text "HOME" to 741741
Crisis Text Line serves anyone, in any type of crisis, providing access to free, 24/7 support and information via a medium people already use and trust: text.
DISASTER DISTRESS HELPLINE, Call 1-800-985-5990 or Text "TalkWithUs" to 66746
SAMHSA's Disaster Distress Helpline provides 24/7, 365-day-a-year crisis counseling, and support to people experiencing emotional distress related to natural or human-caused disasters.
DEPRESSION AND BIPOLAR SUPPORT GROUPS
The DBSA is a comprehensive resource for more than 23 million people in the U.S. who live with mood disorders. We provide education, tools, peer support and a wealth of inspiring stories to help you pursue your own path to wellness. Whether you need resources for yourself or someone you care about, DBSA is ready to help.
CHAT WITH A CHAPLAIN
Are you in spiritual distress as you cope with the many issues surrounding the coronavirus? Connect with a professional chaplain, free of charge, who will listen and offer spiritual care and support. You can connect by email, phone, or video call. Once you complete the request, a skilled chaplain will be in touch with you as soon as possible.
NAMI Connection Recovery Support Group
Saturday, 10:30 am – 12 noon
This group is open to any adult (18+) who lives with a mental health condition.