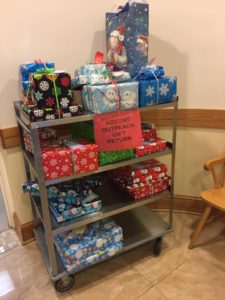 A collection of clothing and Christmas toys for needy families through the Christ Child Society.
Gift requests are usually available mid-November. Wrapped gifts are returned the first Sunday of Advent.
Help is needed to distribute gift cards after Mass, collect gifts, and "bag and tag" gifts for pickup.
For more information, please contact
.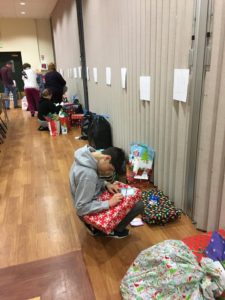 CHRIST CHILD ADVENT OUTREACH 2019
Many thanks to all of the St. Joseph parishioners who showed their support for our Advent Outreach Project by taking the gift information cards these past 2 weekends! All cards have been distributed!
Gifts may be returned during any of the masses between now and December 3, 2019. You may leave your gifts on the cart
labeled "Advent Outreach Gift Return" in the vestibule as you enter church…our Advent Outreach volunteers will ensure that all gifts are safely stored. Please remember that all gifts should:
Be wrapped in Christmas wrapping

Have the Gift Information Card gently attached to the package

Be returned to St. Joseph during Mass by December 3, 2019.
Volunteers Needed!
If you would like to participate in our Advent Outreach project (other than donating a gift), please contact
Diane Smith at dianesmith4691@aol.com or visit the Sign Up Genius link and let us know when you are available to help by CLICKING HERE.