Our parish has many upcoming gatherings, services and events for our members. Please refer to the calendar on the Home page to find out about upcoming services, meetings, and other church related information. This page will provide more information on events. Please also refer to our
weekly bulletin
for the latest news and events.
Please
contact us
to get more information about any of these upcoming events or if you wish to add an item to our schedule.

WEDNESDAY NIGHT BINGO
Join us Wednesday nights for BINGO in Corrigan Hall for some great camaraderie, fun, and chances to WIN, WIN, WIN! Doors open at 6:00 PM, paper sales begin at 6:30 PM, and games start at 7:15 PM. Munchies from the kitchen are available from 6:30 to 9 pm. Admission starts at only $10!!
Can you help out at BINGO? We could always use new friendly faces to help either on the BINGO floor or in the kitchen. To volunteer to help, click below:
LENTEN FISH FRYS!
Fridays, 5-7 PM Corrigan Hall – Feb. 16, 23, March 2, 9, 16, & 23
Come join the St. Joseph community for some great food and fellowship! 10% of all proceeds will be donated to Catholic Relief Services Operation Rice Bowl. Remaining proceeds benefit the youth group work camp trip.
If you would like to help work at our Fish Frys, please visit the link below:
To view the menu and prices, click below: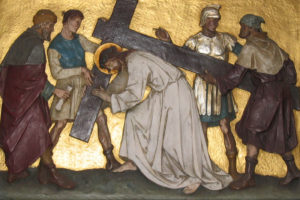 STATIONS OF THE CROSS
Join us to pray the Stations of the Cross every Friday night during Lent. A children-friendly, family version is offered at 5:30 PM and traditional version offered at 7 PM in the Church.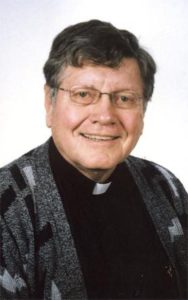 INTER-PARISH MISSION
March 12-14 at St. Elizabeth Ann Seton parish in Crofton
Join parishioners from Our Lady of the Fields and St. Elizabeth Ann Seton for our Annual Inter-Parish Mission on March 12-13-14. Father Bernard Campbell, a member of the Paulist Fathers will present a three-day Mission entitled "Will Our Faith Have Children?" at Seton parish. Fr. Campbell will be preaching at selected Masses the weekend of March 10/11.
There will be one daily 9:00 am Mass followed by confessions and a conference. There will also be a repeated session each night at 7:00 pm followed by time for questions, conversation and fellowship.
Plan now to attend our Lenten Mission! Discover how to live a breath-taking faith that will give life to the next generation of faith.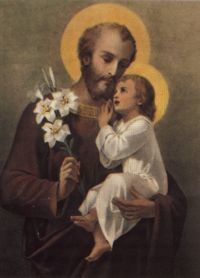 ST. JOSEPH TABLE
March 19 from 6-8 PM in Corrigan Hall
The age-old Italian tradition of St. Joseph's Table is celebrated each each year on his feast day of March 19th. We will honor the patron saint of workers again this year with a potluck dinner in Corrigan Hall sponsored by the St. Joseph Sodality of Our Lady. All are welcome. For more details, contact Lucille Wilson at 301-621-7377. RSVP/Sign Up below: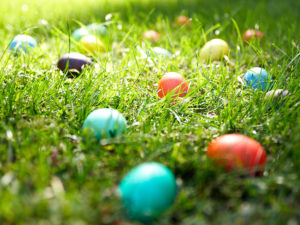 EGG HUNT
Saturday, March 31 from 9:30-10:30 AM on parish grounds
Join us for fun and hospitality on Holy Saturday morning with donuts, coffee and juice, the egg hunt, and a visit from the Easter Bunny! Please sign your child up by March 25th to ensure we have enough food and treat bags for the participants. Click Here to sign up online.
Volunteers: Volunteers are needed to help with assembling treat bags before the event and to help on the day of the event with set up, hospitality, distribute treat bags, and clean up. You are needed to make the event egg-citing! Please contact Mollie Dwyer at liasophia4bling@gmail.com with any questions.
Donations for Treat Bags: There will be boxes in the Lobby for donations of candy and other trinkets (stickers, erasers, pencils, etc.) for the treat bags for the children at the Easter Egg Hunt. Food items should be individually wrapped and peanut-free. No home-baked foods/candies. Your donations are greatly appreciated! Items can be donated thru March 25th.
Racism and the Church: A Catholic Conversation
April 14, 2018 from 8:30 am – 2:30 pm
St. Ignatius Church, Baltimore
The Bishop P. Francis Murphy Initiative for Justice and Peace invites you to join us for a prayerful conversation on the ways in which the Roman Catholic Community can be active in addressing racism and discrimination. We welcome every interested person to this conversation, and we hope each parish and academic institution of the Archdiocese of Baltimore will send at least two representatives to participate. Rooted in the Social Teachings of the Church, the day will offer insights into the nature of discrimination and racism; the Church's understanding of racism as a sin; tools for identifying and addressing racism; and the development of a practical action plan. Included in the day will be a presentation by Baltimore's Racial Justice Circle.
Please see the flyer for details of this important event on April 14th.
We encourage you to register early.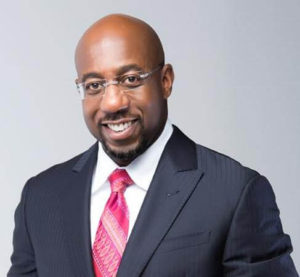 Ecumenical and Interfaith Prayer Service
Commemorating the 50th Anniversary of the Assassination of Rev. Dr. Martin Luther King, Jr.
April 12, 2018 at 7pm at The Cathedral of Mary Our Queen
Featuring:
The Reverend Raphael Gamaliel Warnock, Ph. D.
Senior Pastor, Ebenezer Baptist Church
Atlanta, Georgia
ALL ARE WELCOME
Thursday, April 12, 2018 at 7pm
Cathedral of Mary Our Queen
5200 North Charles Street, Baltimore, MD 21210
The Rev. Dr. Raphael Gamaliel Warnock serves as Senior Pastor of the historic Ebenezer Baptist Church, spiritual home of Rev. Dr. Martin Luther King, Jr.
Questions? Visit https://www.archbalt.org/mlk-50/.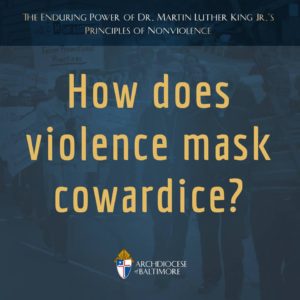 "The Enduring Power of Dr. Martin Luther King Jr.'s Principles of Nonviolence: A Pastoral Reflection."
On Ash Wednesday, Archbishop Lori's released his pastoral letter near the 50th anniversary of the assassination of Dr. Martin Luther King, Jr.

Please click below to read and reflect on the important piece: