HIGH SCHOOL YOUTH MINISTRY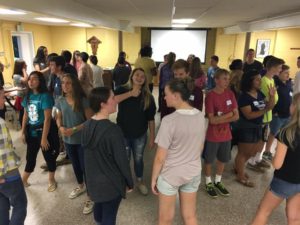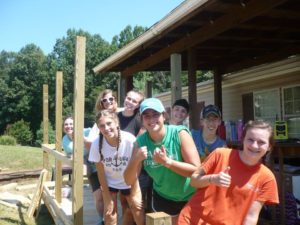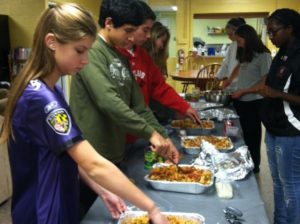 The goals of our High School Youth Ministry are to:
Empower young people to live as disciples of Jesus Christ in our world today;
Draw young people to responsible participation in the life, mission, and work of the faith community; and
Foster the personal and spiritual growth of each young person.
Opportunities for socials, catechesis, teen discussions and/or outreach activities are scheduled at various days and times each month. We ask that all teens participating register by downloading and completing the form below. Registration helps us keep current contact and basic emergency information on file.
Parent Chaperones
All parents wishing to help out, including chaperoning events or helping drive teens to an event, must comply with the Archdiocese policies for Child Protection. More information about the policies and the required forms can be found on our website under Child Protection.
Upcoming Events
High School Youth Group Calendar
YOUTH NIGHT
Sunday, Feb. 24, 2019 from 6:30-8:00 PM in the Youth Room
At our youth nights, we spend a short portion of the evening discussing a faith topic followed social time. We hope to see you there!
HELP WITH PANCAKE SUPPER
Tuesday, Mar. 5, 2019 5-7 PM
The Youth Group will again be sponsoring the Mardi Gras family pancake supper. Please visit the Sign Up Genius link below to see how you can help and sign up!
HELP WITH LENTEN FISH FRYS
Fridays, Mar. 8, 15, 22, 29 and April 5, 12, 2019 5-7 PM
The Youth Group will again be sponsoring the Lenten Fish Frys. Please visit the Sign Up Genius link below to see how you can help and sign up!
CATHOLIC HEART WORKCAMP
This summer's trip is to North Haledon, NJ July 21-27. Our goal is to take 4 adult chaperones (2 male, 2 female) and 14 campers. Registration fee is $380. $100 non-refundable Initial Deposit is due ASAP to secure your spot. Spots filled on first-come, first-served basis. ONLY 3 SPOTS LEFT!
CALLED TO BE CATHOLIC – CONTINUING FAITH FORMATION
Sundays, 10:10-11:10 AM Youth Room Dec. 2, 9 & 16. Jan. 6, 13, & 27, Feb. 10 & 24
Those students not attending a Catholic high school who desire to prepare for the sacrament of Confirmation in 2019 must register for the required pre-Confirmation class. The 8-week pre-confirmation classes begin Sunday, Dec. 2, 2018 from 10:10-11:10 AM in the Youth Room. Use the High School Youth Ministry form to register.
HIGH SCHOOL OVERNIGHT RETREAT
March 16-17, 2019, Camp Hashawha, Westminster, MD
Registration Deadline Feb. 24
Save the date and reserve a spot now for our annual overnight retreat. Cost is $75 (includes lodging, meals and supplies). To sign up, submit your permission and release form and at least a $30 deposit (check payable to St. Joseph) ASAP. Last day to RSVP/final payment is Feb. 24. It's always a great time! Invite a friend! Click below for forms.
"Created to Love" – Human Sexuality Course
Sundays, 6:30-8:30 PM
Feb. 10: Dating/Healthy Relationships
Mar. 31: Marriage & Abstinence
An important goal of faith formation for young people is that they will understand and develop healthy relationships and form moral standards of their own. In accordance with archdiocesan requirements, we will offer the human sexuality catechesis for high school youth, Created to Love during the year. This program was developed for use with high school students by the Archdiocese of Baltimore's Division of Youth and Young Adult Ministry and is based upon the Bishops' documents Catechetical Formation for Chaste Living and the Charter for the Protection for Children and Youth. Created to Love is designed to promote teens' healthy relationships and positive decision making in the context of Catholic moral teaching related the sacredness of human sexuality, the dignity of life, and the sacramentality of marriage. The curriculum is designed to supplement and support the efforts already begun by parents as the primary educators of their children. More information on the Created to Love curriculum can be found on the Archdiocese website at https://www.archbalt.org/youth-ministry/created-to-love/.
Contact Us
Any questions about the Blaze ministry or upcoming events can be emailed to
Michele Dougherty
.