HIGH SCHOOL YOUTH MINISTRY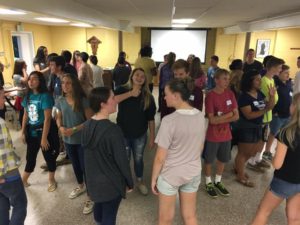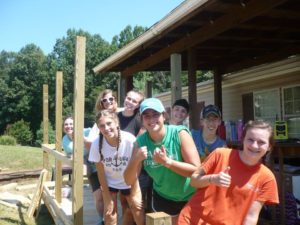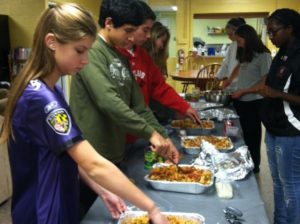 The goals of our High School Youth Ministry are to:
Empower young people to live as disciples of Jesus Christ in our world today;
Draw young people to responsible participation in the life, mission, and work of the faith community; and
Foster the personal and spiritual growth of each young person.
Opportunities for socials, catechesis, teen discussions and/or outreach activities are scheduled at various days and times each month. We ask that all teens participating register by downloading and completing the form below. Registration helps us keep current contact and basic emergency information on file.
Parent Chaperones
All parents wishing to help out, including chaperoning events or helping drive teens to an event, must comply with the Archdiocese policies for Child Protection. More information about the policies and the required forms can be found on our website under Child Protection.
Upcoming Events
High School Youth Group Calendar
LENTEN FISH FRYS
Friday, Feb. 16 & 23, March 2, 9, 16, & 23 from 5-7 PM in Corrigan Hall
The youth group is sponsoring the parish Fish Frys 6 Fridays during Lent (We are hoping to make some money from the fish frys to go toward this summer's workcamp trip. We needs LOTS of people to help make this event a sucess over the six weeks. WE REALLY NEED ADULTS TO COMMIT TO HELP WITH THE KITCHEN TO MAKE THIS HAPPEN THIS YEAR – PLEASE VOLUNTEER ASAP! Please click below for more information and to sign-up to help!
ABSTINENCE & MARRIAGE DISCUSSION
Sunday, March 18 from 6:30-8:30 PM Youth Room
We will continue our human sexuality discussion with Night 2 on Abstinence and the Sacramentality of Marriage from the Created to Love series. In order to give proper amount of time for discussion, youth group time will be extended to 8:30 PM.
GOOD FRIDAY STATIONS OF THE CROSS
Friday, March 30, 3-4 PM Church
The Youth Group will once again lead the Stations of the Cross on Good Friday. If you are interested in participating and helping plan the Stations, please contact Michele Doughery at mdougherty@stjosephodenton.org or sign up:
CATHOLIC HEART WORK CAMP
June 24-29, 2018 to Dover, DE
Contact Us
Any questions about the Blaze ministry or upcoming events can be emailed to
Michele Dougherty
.