GIVING BACK /LINDA'S LEGACY

A Christmas collection for families in need is done annually in partnership with Linda's Legacy-Giving Back. For more information, please contact
Jeff Cullen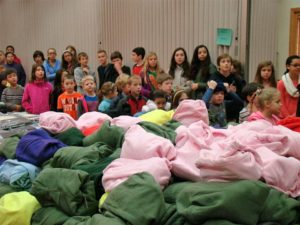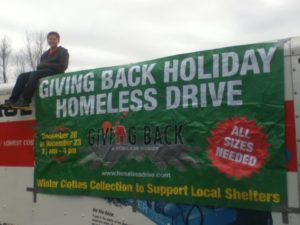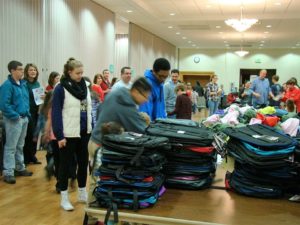 Backpack Drive
Linda's Legacy/Giving Back
The Faith Formation classes will once again help provide filled backpacks for those in need through Linda's Legacy/Giving Back. Each backpack contains a hoodie, thermal underwear, socks, ski gloves, a knit hat, and a handmade Christmas card to be distributed to homeless men, women, and children on the streets of Baltimore & Washington, DC on Christmas Eve 2017. This year's goal is 200 backpacks. The cost to sponsor a backpack is $25.
For more information about this project and pledge for, click below:
U-Haul Collection
A U-Haul truck will be parked in the St. Joseph parish parking lot December 16-24, 2017 to collect donated items.
All new and gently used clothing (especially men's), household goods, non-perishable food, and cash donations are appropriate. If you are going out shopping here is a list of suggested items that would be greatly appreciated:
Lysol wipes/Clorox wipes
Toilet brushes
Draino
Bath mats
Shower curtains

Dust pans
Laundry detergent
Dryer sheets
Place mats
Kitchen towels
Kitchen dish cloths
Toothpaste
Toothbrushes
Soap
Lotion
Washcloths
Towels
Deodorant
Baby oil
Vaseline
Floss
Children (2T-4T), Adults (M-XL)
Children (2T-4T), Adults (4-11)
Children (2T-16), Adults (M-XXL)
Important Date Changes for 2017
Please note: the events below are not chaperoned or organized by St. Joseph parish or fall under Archdiocesan child protection policy- minor children should not simply be dropped off to help – make it a family event!
+Anne Arundel County Farmers Packing days will be after the holiday, Dec. 26th – Dec. 28th. All are invited to come down anytime between 11am and 4pm to sort and pack supplies for the homeless.
+Shelter deliveries will take place on Friday, Dec. 29th. All are welcome to deliver items to homeless shelters and to bring the residents, Christmas Carols and good cheer!
+Backpacks will still be delivered to the streets of Baltimore on Christmas Eve, Sunday Dec 24th. Teens and older are welcome to help give out backpacks and food to our homeless brothers and sisters on the streets of Baltimore.
Why the changes?
– With Anne Arundel County schools starting after Labor Day, there is no winter break prior to the Holiday and we lose a valuable student volunteers for packing.
– Many shelters drop off locations are closed on the weekends. We are unable to coordinate the additional storage, multiple delivery dates, extended trucks and volunteers.
– We find that many shelter clients are able to stay with family members especially over a Holiday weekend, reducing and sometimes eliminating meaningful shelter fellowship.
– The Anne Arundel County Farmers Market is unavailable on Saturday, which would be are primary truck loading day.
All of these factors have a significant impact on our mission. We take great pride in the quality services we provide to others and the experiences shared by many. This change only applies to 2017 morning deliveries and will not effect 2017 Christmas Eve night deliveries.