Returning to Mass in a safe manner for all will require everyone to adjust to some changes in physical spacing, social practices, and changes in the liturgy. Below is the updated guidance for complying with safety and physical distance requirements while visiting the parish. Please read and comply with all signs and observe floor markings and physical distancing in the building. Ushers will be available to assist you and to ensure the guidelines are followed. Please click on the documents below for details.
Refer to the video from the Archdiocese of Baltimore on the changes when you return to Mass. Refer to the gallery of pictures at the bottom for changes in our physical campus at St. Joseph Odenton.
If you have any questions about these changes or directions, please contact Katie Jenkins at kjenkins@stjosephodenton.org.
Face covering are required. Please adhere to all signage directions.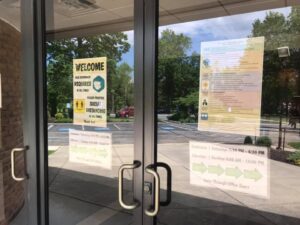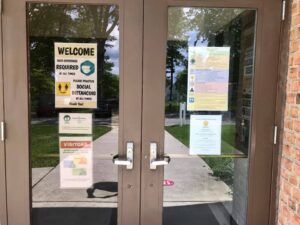 Maintain social distancing at all times, follow floor markings.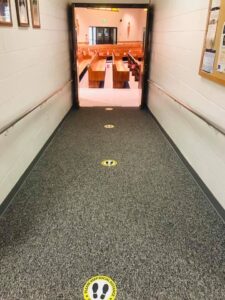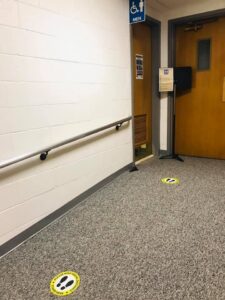 Available pews will be marked with a green check mark.
Due to cleaning and sanitation protocols, the blue section of chairs will only be available for the Sunday 9 AM Mass. Rows of chairs in Corrigan Hall are 6-ft apart; please maintain a disance of 6-ft between families in a row.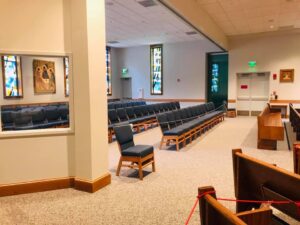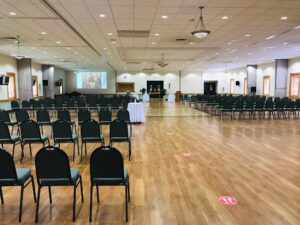 Use hand sanitizer when entering the church building. Please be aware of the symptoms of coronavirus. Take your temperature before coming to church, Remain at home if you are not feeling well and/or have been in contact with coronavirus within 14 days. Only one person (or family unit) in the restroom at a time. Please review our restroom policies outlines in our Phase II document.