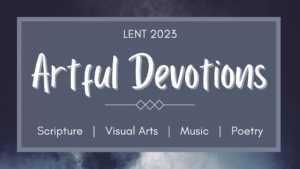 Engaging the Catholic imagination through the visual arts, poetry, and music!
Welcome to Artful Devotions! I have created this project in hope that it will assist in
building a community of love that, through its diversity and integration of the arts, fosters a living relationship with the risen Lord Jesus Christ in the Eucharist.
The arts have the ability to awaken a sense of wonder in the human person. I hope that this project will draw others to Christ, awakening a desire to grow closer to Him. It is my hope that through inculturated arts, it will assist in building a communion of love, recognizing we all, through our diversity, are one in the Body of Christ.
Each week during Lent, I will be choosing one of four scripture texts from the Revised Common Lectionary for the coming week and then selecting a piece visual artwork, a musical selection, and a poem that resonate with the scripture reading.
Katie Jenkins, Director of Music
St. Joseph Catholic Church, Odenton, MD
kjenkins@stjosephodenton.org