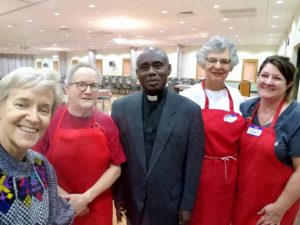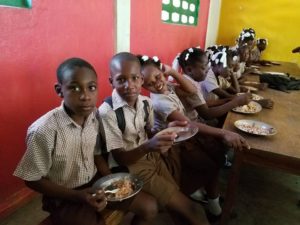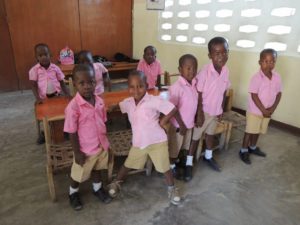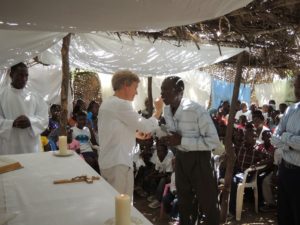 Click below to view an update on our
Sister-Parish, St. Peter's, in Poteau (September 2021)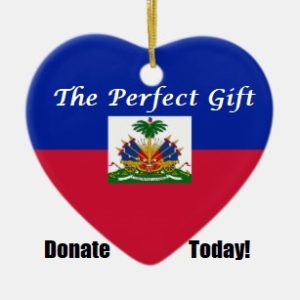 Looking for the Perfect Gift for Someone? Birthday or Special Occasion?
Consider a donation instead of a gift for a friend or family member this Christmas.
Consider a donation in memory of a loved one- printable "Family information Flyer" below.
Printable cards available below for Special Occasion, Christmas, or Remembrance to let you loved ones know the donation has been made.
Looking for the Perfect Gift for Someone?
Consider giving a gift that shares our many blessings at the same time! You can make a donation to support our sister parish, St. Peter's of Poteau, Haiti! The need is great and our fundraising campaign is open all year long.
Your contribution will help provide a daily hot meal to schoolchildren from grades pre-K to 9 and pay their teachers' salaries. Or you can choose to help fund the scholarship program to help our graduates go on to high school! Either way, 100 percent of your funds will go toward giving our Haitian brothers and sisters the blessings of a daily meal, an education, and an opportunity to break the cycle of poverty.
1. Make a contribution to the Haiti Ministry. Any amount will go a long way! You can make a contribution by:
CHECK: Note in the memo section "Haiti Feed and Educate" or "Haiti Scholarship" and drop off/mail it to the parish office or place it in the collection basket at Mass, OR
2. Print out your gift card (click on the button below); fold in half from top to bottom; fold again from left to right; then sign, seal, and deliver!
Choose from the printable cards below!
Annual Haiti Budget
For the past 15 years St. Joseph Parish has had a Sister Parish relationship with St. Peter's of Poteau, Haiti. Our parish commitment is to provide funding for the Feed and Educate Program. The purpose of the Feed and Educate Program is to provide a hot nutritious lunch to the 425 students, grades pre-K thru 9, who attend St. Peter's Catholic School, five days a week. The funds also pay the teachers' salaries. The lunch is rice and beans cooked in the school kitchen. The cost of the program for the school year August 2021 – June 2022 is $60,000.
FREQUENTLY ASKED QUESTIONS
Why is the annual cost $60,000?
Every year, Fr. Merat, the pastor of St. Peter's of Poteau, provides a very
detailed list of cooking supplies and the amount of food needed, as well a
breakdown of teacher salaries for the annual budget. The Haiti Ministry
reviews this budget to set the annual fundraising goal.
This year, due to the extreme political unrest in Haiti and high inflation,
Fr. Merat has shared that the cost for the Feed and Educate Program will be
much higher; the actual cost is more than $60,000. The Haiti Ministry
has agreed to keep the annual fundraising goal at $60,000. If the goal for
the Feed and Educate program is exceeded, the additional funds will be
sent to St. Peter's for food and teacher's salaries.
Why are two years of Pre-K important?
St. Peter's has three school programs: two years of pre-K; Kindergarten
through 6th grade school; and middle school (7th to 9th grades). For those
students in Pre-K, many of them do not get sufficient nutrition vital to
their growth and development at home. Therefore, the lunch meal from the school
is vital to their development. Pre-school work prepares them for success
when they get to kindergarten.
Why is Middle School (7th, 8th, and 9th Grades) important?
Prior to the addition of grades seven through nine, students completing grade six would
have to apply for and attend middle school somewhere else in the
community. Almost all 6th graders passed the national exam and were
able to apply to another school, but the cost was prohibitive for many families.
Their education would stop there. With the addition of the
middle school grades, the students' education can continue, and if they
pass the national exam each year, students will be able to apply to high
schools in the Gonaive area. IN AUGUST 2021, WE LEARNED EVERY
9TH GRADE STUDENT (18 STUDENTS) PASSED THE NATIONAL EXAM AND
IS ELIGIBLE TO GO TO HIGH SCHOOL! THIS IS A TREMENDOUS
ACCOMPLISHMENT FOR THE STUDENTS AND THE SCHOOL!!
Where are the Middle School Graduates going?
High school in Haiti is not free, it requires tuition. Our first priority is the Feed and Educate Program. If, after supporting the Feed and Educate Program, you would like to give the gift of high school education, please check the scholarship box and what amount you would like donate on the flyer, or check the scholarship box with online giving, or indicate how you would like your check to be applied on the memo line of your check. All of the scholarship funds will be given to Fr. Merat to be shared with the high school students. A high school education is truly a gift that changes lives forever.
How does the Haiti Ministry Committee oversee and audit this program?
The Haiti Ministry Committee meets monthly on the second Wednesday each month at 7PM . During Covid-19 we are meeting via Zoom. You are welcome to join!

The Haiti Ministry Committee is in contact with the pastor of our sister parish, Fr. Jean Merat weekly via e-mail, text and phone.

For many years Haiti Ministry Committee members have visited St. Peter's school and parish annually. Due to civil unrest and Covid-19 there has been no visit since 2018.

The Pastor, Fr. Jean Merat, is welcomed annually in the fall to St. Joseph to visit our parish and meet with committee members. Due to civil unrest and Covid-19 he has not been able to come since September 2018.

The Haiti Ministry Committee meets twice a year with other Archdiocese parishes who have a Sister Parish program to share updates and insights.
How to Contribute to the Haiti Ministry:
Checks – Make checks payable to St. Joseph Church AND put 'Haiti'

in the Memo portion of your check. The funds will go to the Feed




and Educate program, unless Haiti Scholarship is designated.




Cash – put cash in an envelope and write 'Haiti' on the envelope. Leave in a collection basket or church office.




Birthday / Christmas / In Lieu of Flowers gifts – Use Online, Check

or Cash methods to donate. Print applicable card off the website




that can be mailed/given to the family.




Designating Haiti as a Charity Contribution for Deceased Loved

One – call the parish business manager, Deb Harris, for ease in setting this up, 410-674-9238.




Bequeathment- call the parish office business manager, Deb Harris, for ease in setting this up, 410-674-

9238.
Monthly Meeting
The Haiti Ministry Committee meets on the 2nd Wednesday of the month in the church lounge at 7 PM. Please feel free to join us.
For More Information / Get Involved
Any questions about the Haiti Sister-Parish Ministry can be directed to:

Gary Grey at

GKGREY@GMAI.COM

.
Any questions about the Haiti Sister-Parish Ministry can be directed to Gary Grey at gkgrey@gmail.com.