Our parish has many upcoming gatherings, services and events for our members. Please refer to the calendar on the Home page to find out about upcoming services, meetings, and other church related information. This page will provide more information on events. Please also refer to our
weekly bulletin
for the latest news and events.
Please
contact us
to get more information about any of these upcoming events or if you wish to add an item to our schedule.

WEDNESDAY NIGHT BINGO
Join us Wednesday nights for BINGO in Corrigan Hall for some great camaraderie, fun, and chances to WIN, WIN, WIN! Doors open at 6:00 PM, paper sales begin at 6:30 PM, and games start at 7:15 PM. Munchies from the kitchen are available from 6:30 to 9 pm. Admission starts at only $10!!
Can you help out at BINGO? We could always use new friendly faces to help either on the BINGO floor or in the kitchen. To volunteer to help, click below:
LENTEN FRIDAY FISH FRYS
Fridays, 5-7 PM Corrigan Hall – March 8, 15, 22, 29 & April 5, 12
Come join the St. Joseph community for some great food and fellowship! 10% of all proceeds will be donated to Catholic Relief Services Operation Rice Bowl. Remaining proceeds benefit the youth group work camp trip. Make Fish Fry part of your Lenten tradition as well as Family Stations of the Cross at 5:30 PM or traditional Stations of the Cross at 7 PM in the Church.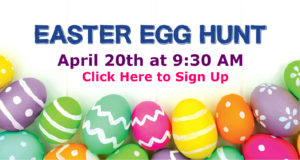 ANNUAL EGG HUNT
Our Annual Easter Egg Hunt will be held on Saturday, April 20th at 9:30 am on the Church grounds. Join us for fun and hospitality on Holy Saturday morning with donuts, coffee and juice, the Egg Hunt, and a visit from the Easter Bunny! Please be sure to sign up in the lobby or via the parish website by April 14th to ensure we have enough food and treat bags for all participants. RSVP by clicking on the picture to the left.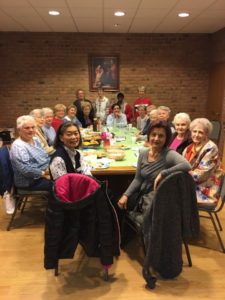 LENTEN DAY OF REFLECTION (Apr. 11)
The Sodality of Our Lady is hosting a Lenten Day of Prayer for all women of the parish ages 18 and over on Thursday, April 11. The theme is "Echoing Our Faith." Sister Sally Russell, SSJ, from Our Lady of the Chesapeake will be our facilitator. "Sister Sally" is a well-renowned dynamic, spirit-filled speaker who will encourage us to reflect inward this Lenten season and challenge our inner selves to live a more faith-filled life. The day will begin with Mass at 9 am and will conclude by 2:30 pm. Lunch will be served. There is no cost for this event; a free will offering towards lunch is optional. Sign-up sheets are available in the church narthex. For more details, call Norma Coffey at 410-674-3394 (or text at 207-449-0805) or call Kathaleen Kerr at 410-672-7574.
MINISTRY APPRECIATION DINNER (May 18)
On Saturday, May 18 after the 5 pm Mass, we will be hosting our Parish Ministry Appreciation Dinner for all the terrific people who serve in ministry here at St. Joseph. A delectable food catered by Mission BBQ, DJ "Unique Musique, Shannon" & dancing – an enjoyable evening all around, all in honor of our wonderful ministry volunteers. Please be sure to sign up to attend this fun event. It's an entire evening intended just for you and your immediate family!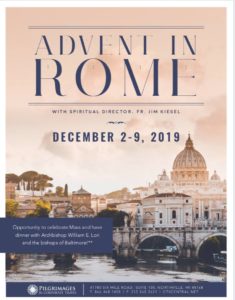 TRIP TO ROME (Dec. 2-9)
Join Fr. Jim and Archbishop Lori in Rome and Assisi this Advent. For more information, visit: