HIGH SCHOOL YOUTH MINISTRY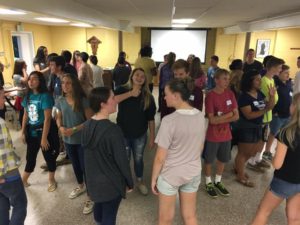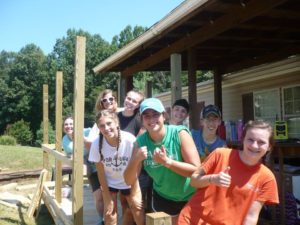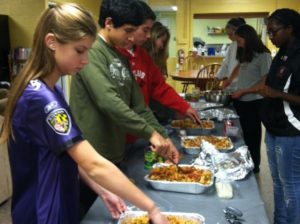 The goals of our High School Youth Ministry are to:
Empower young people to live as disciples of Jesus Christ in our world today;
Draw young people to responsible participation in the life, mission, and work of the faith community; and
Foster the personal and spiritual growth of each young person.
Opportunities for socials, catechesis, teen discussions and/or outreach activities are scheduled at various days and times each month. We ask that all teens participating register by downloading and completing the form below. Registration helps us keep current contact and basic emergency information on file.
Parent Chaperones
All parents wishing to help out, including chaperoning events or helping drive teens to an event, must comply with the Archdiocese policies for Child Protection. More information about the policies and the required forms can be found on our website under Child Protection.
Upcoming Events
High School Youth Group Calendar
High School Youth Ministry Kick-Off
Sunday, September 16, 2018 from 6:30-8:30 PM in the Youth Room
Please complete a High School Youth Ministry registration form to be kept on our email list and to have current emergency contact information on file during events. Let us know you're coming by RSVP'ing using the link below,
Baltimore Youth Catholic Conference (BYCC)
November 16-18, 2018 at Turf Valley Resort, Ellicott City, MD
BYCC is a biennial gathering of the young church of the Archdiocese of Baltimore. BYCC is an opportunity for our young people to experience the larger church at a weekend long conference in Ellicott City, Maryland. This year's theme is "Boldly Me / Audazmente Yo." Cost is $290 for the weekend and includes hotel accommodations at Turf Valley Resort. For more information and forms click below. Registration for our parish ends September 30th. You must submit payment and forms by September 30th in order to attend!
Help with the Haiti Spaghetti Dinner
Saturday, September 29, 2018 at 6 PM in Corrgian Hall
The annual Spaghetti Dinner to celebrate our Sister Parish relationship with St. Peter's of Poteau will be held Saturday Sept 29th. Help is needed with set up, serving, and clean up the day of the event. To sign up to help, please use the link below:
YOUTH NIGHT
Sunday, Sept. 30th 6:30-8:00 PM Youth Room
Come to our first youth night – brief faith discussion followed by social time.
Contact Us
Any questions about the Blaze ministry or upcoming events can be emailed to
Michele Dougherty
.