HIGH SCHOOL YOUTH MINISTRY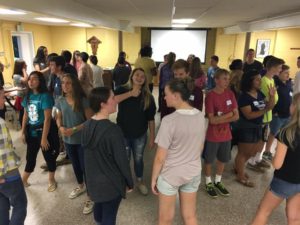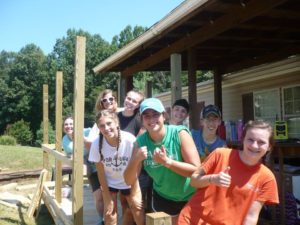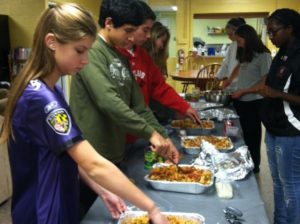 The goals of our High School Youth Ministry are to:
Empower young people to live as disciples of Jesus Christ in our world today;
Draw young people to responsible participation in the life, mission, and work of the faith community; and
Foster the personal and spiritual growth of each young person.
Opportunities for socials, catechesis, teen discussions and/or outreach activities are scheduled at various days and times each month. We ask that all teens participating register by downloading and completing the form below. Registration helps us keep current contact and basic emergency information on file.
Parent Chaperones
All parents wishing to help out, including chaperoning events or helping drive teens to an event, must comply with the Archdiocese policies for Child Protection. More information about the policies and the required forms can be found on our website under Child Protection.
Upcoming Events
High School Youth Group Calendar
SUNDAY YOUTH NIGHTS
At our youth nights, we spend a short portion of the evening discussing a faith topic followed social time. All youth nights are from 6:30-8:00 PM in the Youth Room. Upcoming nights: Jan. 7 & 21.
YOUTH RALLY/MASS & MARCH FOR LIFE
Friday, Jan. 19, 2018, 6 AM – 3 PM Washington, DC
We have a very limited number of tickets to the Archdiocese of Washington's Youth Rally and Mass for Life at the Capital One Arena. If you can have off school that day and would like to join us, please RSVP to mdougherty@stjosephodenton.org.

HELP WITH WINTER RELIEF
Sunday, January 28, 2018 from 11:30 AM – 1:30 PM
The Youth Room will need to be organized to house our 30+ guests during Winter Relief Jan. 29-Feb. 5. We need your help to set up the shelter from 11:30 AM – 1:30 PM on Sunday, January 28. We need strong bodies to help move furniture and items to/from the upstairs old church and the Youth Room. The group has also been asked to donate drinks/bottled water. We also need help to tear down and clean up the Youth Room from 6-8 PM on Monday, February 5. To sign up to help/donate, please visit:
PREPARE LUNCHES FOR WINTER RELIEF
Monday, Jan. 29, 6:30-7:30 PM, Conference RoomCome help make 30+ bagged lunches for our guests during Winter Relief. Please bring $5 to help cover the cost of supplies. To sign up, please visit the Sign Up Genius page:
MARDI GRAS PANCAKE SUPPER
Tuesday, Feb. 13, 2018 5-7 PM in Corrigan Hall
The youth group is sponsoring a family pancake supper on "Fat Tuesday" from 5-7 PM in Corrigan Hall: fellowship, fun, pancakes, bacon/sausage, and sweet treats on the last evening before Lent. Tickets are $5 per person (kids under 4 eat FREE; max $20 per family). Tickets can be purchased after Masses beginning Jan. 27/28. We need help to hold this event: selling tickets, set up, donating sweets, kitchen help, serving, kids activities, clean-up, etc. Please click below for more information and to help out:
LENTEN FISH FRYS
Friday, Feb. 16 & 23, March 2, 9, 16, & 23 from 5-7 PM in Corrigan Hall
The youth group is sponsoring the parish Fish Frys 6 Fridays during Lent (We are hoping to make some money from the fish frys to go toward this summer's workcamp trip. We needs LOTS of people to help make this event a sucess over the six weeks. WE REALLY NEED ADULTS TO COMMIT TO HELP WITH THE KITCHEN TO MAKE THIS HAPPEN THIS YEAR – PLEASE VOLUNTEER ASAP! Please click below for more information and to sign-up to help!
F
AN OR FOLLOWER? What it Means to Truly Follow Jesus
High School Overnight Retreat
March 10-11, 2018, Camp Hashawha –
Westminster, MD
Save the date and reserve a spot now for our annual overnight retreat at Camp Hashawha in Westminister, MD! This year's retreat is
March 10-11, 2018
. Cost is $75 – if we get 15 campers from St. Joseph to sign up, the cost drops to $60 per person! Cost covers lodging, meals and supplies. To sign up, submit your permission and release form and $30 deposit (check payable to St. Joseph) ASAP. Last day to RSVP/final payment is
Feb. 25
. More details and forms can be found by clicking below:
CATHOLIC HEART WORK CAMP
June 24-29, 2018 to Dover, DE
We have had a spot open up for an adult chaperone and their child (if needed) for this summer's workcamp,
June 24-29
to Dover, DE. Please contact Michele Dougherty at
mdoughery@stjosephodenton.org
if interested.
Contact Us
Any questions about the Blaze ministry or upcoming events can be emailed to
Michele Dougherty
.