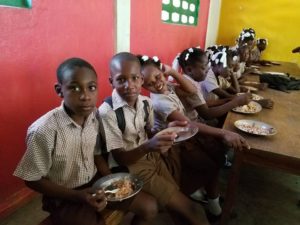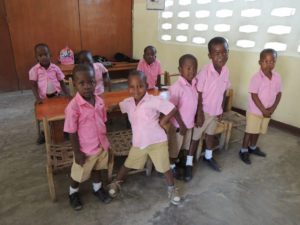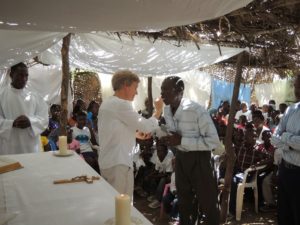 Remember the Haiti Ministry this Christmas!
Looking for the perfect gift for someone? Consider sharing our many blessings at the same time! You can make a donation — in honor or memory of a loved one — to support our sister parish, St. Peter's of Poteau, Haiti!
Your contribution will help provide a daily hot meal to school children from grades pre-K to 9 and pay their teachers' salaries. Or you can choose to help fund the scholarship program to help our graduates go on to high school! Either way, 100 percent of your funds will go toward giving our Haitian brothers and sisters the blessings of a daily meal, an education, and an opportunity to break the cycle of poverty.
HERE"S HOW:
Either make a donation by check (made payable to St. Joseph Catholic Church) with "Haiti Feed and Educate" or "Haiti Scholarship" in the memo section and mail it or drop off to the parish office OR
CLICK HERE
to go to our Online Giving Page and make an online contribution to the Haiti Ministry. (Any amount will go a long way!)
Then print out your gift card using the link below, fold in half from top to bottom, then fold again from left to right , sign, seal, and deliver!
Annual Haiti Campaign
For the past 12 years St. Joseph Parish has had a Sister Parish relationship with St. Peter's of Poteau, Haiti. Our parish commitment is to provide funding for the Feed and Educate Program. The purpose of the Feed and Educate Program is to provide a hot nutritious lunch to ever student at St. Peter's Catholic School 5 days a week. The funds also pay the teachers salaries. The lunch is primarily rice and beans with some meat or fish favoring added. There are currently around 425 students in grades Pre-K to 9. The cost of the program for the school year 2016-2017 was $48,000. The budgeted cost of the program this year is $50,000.
Why is the annual cost $50,000?
Our budget for many years was between $28,000 and $32,000. Last year Fr. Merat shared that he had a funding shortfall. The shortfall was caused by increased food, fuel, and other operational costs resulting from drought and hurricane induced floods (yes, both problems existed!), and the additional costs associated with running the new 7th, 8th, and 9th grades. In addition to the increased number of students, there are also new needs for Specialty teachers for Computers, Science, English, and French, plus needs for the new course textbooks. The qualifications to teach middle school are higher than elementary school, and middle school teachers are paid a higher wage.
Why are two years of Pre-K important?
St. Peter's has three school programs: two years of pre-K; Kindergarten through 6 grade school; and middle school (7th to 9th grades). For those students in Pre-K for many of them do not get sufficient nutrition vital to their growth and development at home, so the lunch meal from the school is vital to their wellbeing and development. Their school work prepares them for success when they get to the grade school level.
Why is Middle School (7th, 8th, and 9th Grades) important?
Prior to the addition of grades 7-9, students completing grade 6 would have to apply and attend middle school somewhere else in the community. Almost all 6th graders were passing the national exam and able to apply to another school but the cost was prohibitive for many families. Their education would stop there. With the addition of the middle school the student's education can continue and if they pass the national exam each year, will be able to apply to high schools in the Gonaive area.
Where are the Middle School Graduates going?
This year, St. Peter's school is graduating its first class of Middle Schoolers (9th grade graduates). The current 9th grade class is taking the national exam to see if they are able to apply to attend high school, grades 10-12. For all, the cost of $1,000 a year is prohibitive, even if they pass the exam. There are 16 9th graders. This year St. Joseph parish has been informed of a donor who has agreed to match scholarship donations to possibly enable these students to reach their dream of obtaining a high school education. During the regular annual Haiti Sister Parish Fundraiser, which raises the $50,000 budget needed for the feed and educate program for St. Peter's school, The flyer will also have a box that the donor can check that will designate if any of the funds are to go to the High School scholarship fund. The Haiti Ministry wants to point out that the funding of the High School Scholarships is a secondary opportunity/goal. Our primary program and goal is to support the feed and educate program which funds the operation of St. Peter's school Pre-K to 9th grades. We respectfully request that you don't donate to the High School scholarship fund unless you have fulfilled your pledge to our primary goal, the Pre-K to 9th grade "feed and educate" program.
How does the Haiti Ministry Committee oversee and audit this program?
The Haiti Ministry Committee meets monthly to provide updates on the program. The committee is in contact with the pastor at least monthly via text messages regarding updates on the program. Once per year representatives from St. Joseph parish travel to Poteau, Haiti to meet with the Pastor and Principal and spend time in all the classrooms. During that visit the St. Peter's Pastor provides a financial update during a lengthy business meeting. Once a year the Pastor from St. Peter's visits St. Joseph parish and participates in a business meeting with St. Joseph Haiti Ministry Committee members. Fr. Merat, from St. Peters Poteau gives a very detailed accounting of the funds spent: salaries, number of bags of beans and rice purchased, propane, etc. His accounting is closely reviewed by the committee. The annual budget is divided into 3 equal payments and paid directly to St. Peter's Parish via a wire transfer three times per year.
Regional Archdiocese of Baltimore Haiti Sister Parish Information
There are several parishes in Anne Arundel County who also have a Sister Parish relationship with a parish in the Diocese of Gonaives, Haiti. Twice a year representative from these Anne Arundel County parishes meet to discuss the details of the Feed and Educate Program in their Sister Parishes. In the most recent meeting (April 2018) we learned that the $50,000 annual budget St. Joseph has is very similar to the other parishes who support a 400+ student school that includes grades 7-9. The other parishes in Anne Arundel County with Sister Parishes in the Diocese of Gonaives are St. Bernadette, St. Elizabeth Seton, Our Lady of Perpetual Help Edgewater, and Christ the King Glen Burnie. Our St. Joseph Haiti Ministry is very glad to have the opportunity to share with these Anne Arundel parishes as another way to add accountability to our program.
Accomplishing Special Projects
Over the 12 year relationship, St. Joseph has helped with providing a new 2 story school building, a deep well, and a security fence around the church/school compound for St. Peter's. Funding has NOT come from the Feed and Educate budget but rather from large donations left by parishioners in their wills. We are very grateful for this unexpected source of funds which have been the only way to accomplish special projects.
For More Information / Get Involved
Visitors and new members always welcome!
Attend our monthly meeting held on the second Wednesday at 7 PM in the Lounge.
Join us for the spaghetti dinner held every Fall.
Contribute to the annual campaign.
Any questions about the Haiti Sister-Parish Ministry can be directed to Gary Grey at gkgrey@gmail.com.