CHILDREN'S FAITH FORMATION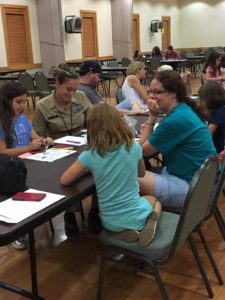 As members of St. Joseph Catholic Church, we commit ourselves to personal discipleship nurtured through prayer, music, dialogue and study of the Word and the Christian faith. We believe catechesis is a collaborative effort between the family and the parish community. Our program strengthens parent efforts in teaching the Catholic faith; it does not replace it. Individuals with special needs and their families are welcome and encouraged to participate.
Registration now open for the 2018-2019 session!
K-8 FAITH FORMATION
The parish offers two classroom options for religious education for children from Kindergarten through the 8th grade: Sunday Morning Sessions are held 10:10-11:10 am and Monday Evening Sessions are held 6:30-7:30 pm.
Both sessions are held in St. Joseph's Corrigan Hall from mid-September to the first week in May, except as noted for nights off and special sessions. Families unable to attend these days/times are encouraged to choose the
Home Study Option to keep up their child's religious education, teaching the classroom materials at home. Please refer to the registration material for more information.
Base Curriculum
The curriculum we use is Pflaum Gospel Weeklies. With the weeklies, the lessons are lectionary-based, that is, they center on the Sunday Gospel and incorporate current events and doctrinal teaching of the Church in a unified approach. Each child will receives a packet of weekly pages as well as a mini-catechism book called What the Church Believes and Teaches. A great benefit to this program is that it has proven that kids understand the message of Jesus better and have greater participation in Mass than other traditional textbook lessons. This handout explains more fully this approach to Faith Formation. This program is approved by the US Catholic Bishops and the Archdiocese of Baltimore. The correlation between the Pflaum series and the Archdiocese of Baltimore Elementary Religion Curriculum can be viewed by Clicking Here.
Each week a Family Page is provided for parents to discuss the weekly Gospel lesson at home with their child. Click Here to view the latest pages.
Online teaching guides as well as age-appropriate seasonal activities, family prayers, and background on the saints and feasts can be found on the
Pflaum Website.
Family Life Catechesis
As an integral part of our faith formation curriculum, we also teach Catechesis for Family Life per Archdiocesan guidelines. This age-appropriate program about Christian living, chastity, character formation, and safe environment training promotes communication between you and your child. Materials are provided to parents to preview before the lessons are taught in class.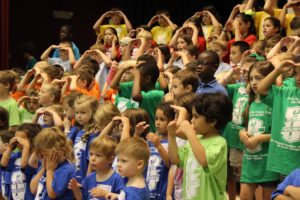 VACATION BIBLE SCHOOL
Each summer, our parish offers a Vacation Bible School (VBS) for children age 4-10. Registration begins in February. Please refer to the
Vacation Bible School
page for announcements about our next VBS.